Tisch College is heir to a rich tradition that dates back to the Universalists' founding of Tufts in 1852 and to their belief that higher education could be a force for good in the world.
A century after its founding, the university formalized this commitment to civic learning and engagement. In 1954, Tufts created the Center for Civic Education, later renamed the Lincoln Filene Center for Citizenship and Public Affairs.
In the following decades, the Lincoln Filene Center played a vital role in the growing movement to study and strengthen civic life. The center organized gatherings like the National Conference on Citizen Participation and the National Conference on Civic Renewal. It undertook research and published scholarly work on civic engagement.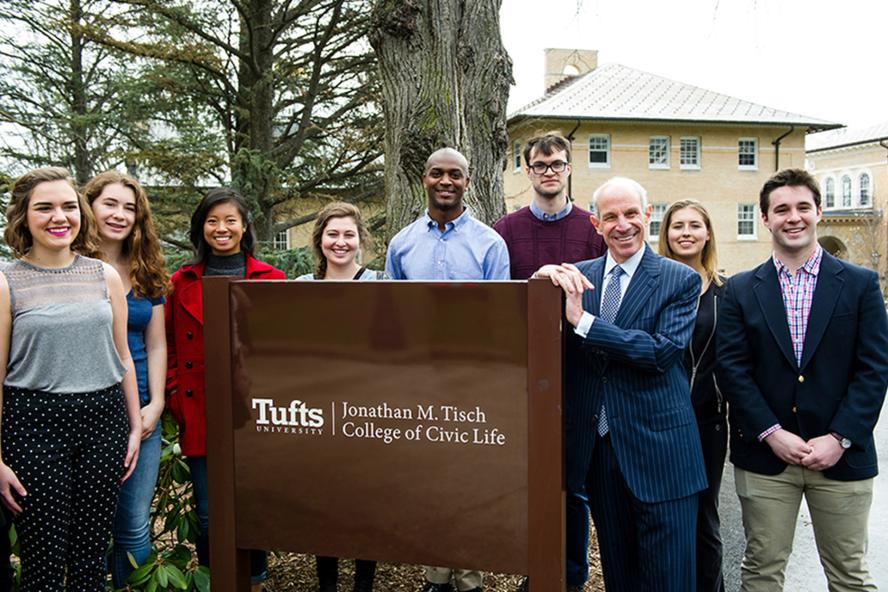 Photo Caption: Jonathan Tisch featured with students.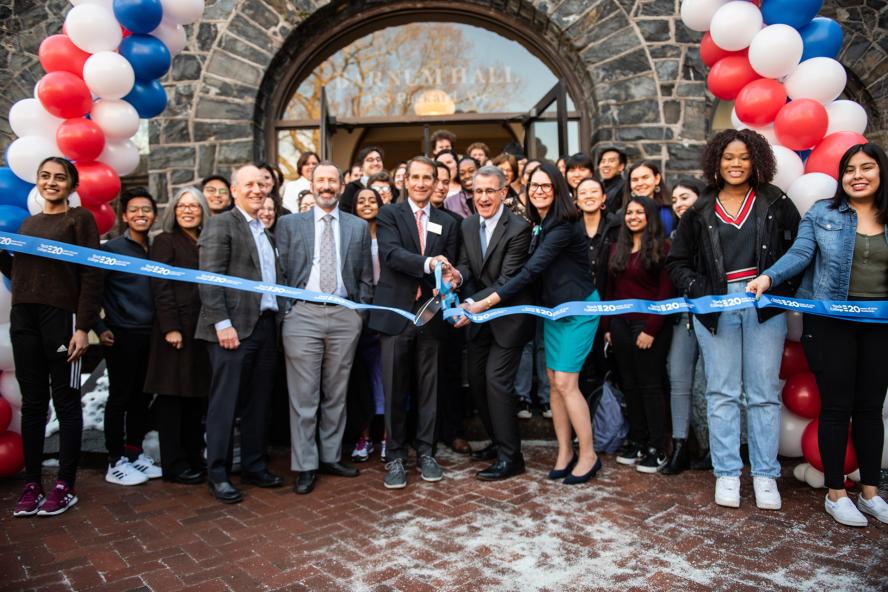 Photo Caption: Ribbon-cutting ceremony for the Jonathan M. Tisch College of Civic Life's new space in Barnum Hall on January 24, 2020.
In 2000, recognizing the importance of civic engagement to its academic mission, Tufts signed a Declaration of Purpose and created the University College of Citizenship and Public Service.
In 2006, thanks to extraordinary philanthropy from Jonathan Tisch, A76, the University College was renamed the Jonathan M. Tisch College of Citizenship and Public Service. In 2016, the name was updated to the Jonathan M. Tisch College of Civic Life to better capture the nature of our work and the challenges ahead.
Over the past two decades, Tisch College has evolved into a vibrant platform for local and global partnerships, for myriad student learning and service opportunities, and for groundbreaking research. We are informed and inspired by past accomplishments, and we seek to build on them as we chart the future direction of the college.
Building Robust Democracy for an Emerging Multiracial Society
Dayna Cunningham, the Pamela and Pierre Omidyar Dean of Tisch College of Civic Life, delivers the keynote address to the 2022 Tufts Parents and Family Weekend about Tufts University's vision of civic life and its roots in the university's founding.
Chronology
| Year | Event |
| --- | --- |
| 1945 | Living Flame Memorial Foundation created. |
| 1948 | The Edward A. Filene Good Will Fund, Inc. provides a substantial contribution enabling the organization of the Civic Education Project. |
| 1950 | Living Flame Memorial Foundation and the Civic Education Project start collaborating. |
| 1951 | The Living Flame Memorial Foundation changes its name to the Civic Education Foundation. |
| 1952 | The Edward A. Filene Good Will Fund, Inc. funds the publication of the report "Education for Citizenship" and its distribution to 20,000 educational leaders throughout the country. |
| 1954 | At Tufts President Nils Wessell's invitation, the Civic Education Project is moved from Cambridge to Tufts to become the "Tufts College Center for Civic Education." |
| 1955 | The "Lincoln and Therese Filene Professorship in Citizenship and Public Affairs" is endowed by the Lincoln and Therese Filene Foundation. |
| 1957 | Franklin Patterson is appointed to be the first director of the Lincoln Filene Center. |
| 1958 | The Lincoln Filene Center works with Tufts student Richard Dorsay to create the Leonard Carmichael Society. It is housed at the Center until 1965 and returns to the building in 2003. |
| 1961 | The "Tufts College Center for Civic Education" becomes the Lincoln Filene Center for Citizenship and Public Affairs. |
| 1963 | The Lincoln Filene Center building is completed. |
| 1966 | John Gibson, Tufts Government Department, becomes the second director of the Lincoln Filene Center. |
| 1967 | Burton Hallowell becomes the ninth president of Tufts. |
| 1974 | Francis Duehay becomes the third Filene Center director. |
| 1976 | Jean Mayer becomes the tenth president of Tufts. |
| 1978 | Stuart Langton becomes the fourth director of the Lincoln Filene Center. |
| 1982 | The Weston Howland, Jr. Award for Civic Leadership is created. |
| 1989 | Lincoln Filene Center merges with Tufts University. The Civic Education Foundation is dissolved. The Board of the Civic Education Foundation becomes an advisory committee for the Center. |
| 1990 | Rob Hollister, Department of Urban and Environmental Policy, is appointed to be the fifth director of the Lincoln Filene Center. |
| 1992 | John DiBiaggio becomes the eleventh president of Tufts. |
| 2000 | Badi Foster becomes the sixth Lincoln Filene Center director. The University College of Citizenship and Public Service (University College) is created by the Tufts Trustees. |
| 2001 | Lawrence S. Bacow becomes the twelfth president of Tufts. |
| 2002 | Rob Hollister is first dean of the University College. Under the direction of Hollister, the Lincoln Filene Center becomes a division of the University College. Tufts Trustees name Hollister the first chair holder of the newly created the John DiBiaggio Chair in Citizenship and Public Service. |
| 2006 | The University College is renamed the Jonathan M. Tisch College of Citizenship and Public Service. |
| 2011 | Rob Hollister steps down as Dean of Tisch College and Nancy Wilson takes over as Dean ad interim. |
| 2014 | Alan D. Solomont, former United States Ambassador to Spain and Andorra, becomes Dean of Tisch College. |
| 2016 | The Jonathan M. Tisch College of Citizenship and Public Service is renamed the Jonathan M. Tisch College of Civic Life. |