Dayna L. Cunningham, Pierre and Pamela Omidyar Dean of Jonathan M. Tisch College of Civic Life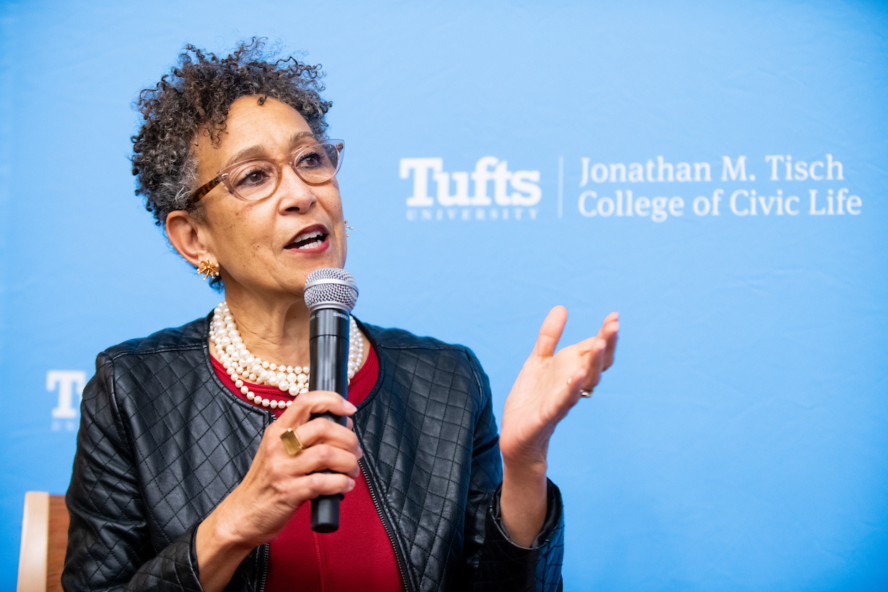 Dayna Cunningham is the Pierre and Pamela Omidyar Dean of Tufts University's Jonathan M. Tisch College of Civic Life. The only university-wide college of its kind, Tisch College studies and promotes the civic and political engagement of young people at Tufts University, in our communities, and in our democracy.
Dean Cunningham joined Tisch College in 2021 and has devoted her career to promoting civic participation, building community partnerships, and advocating for underrepresented communities.
Before leading Tisch College, Dean Cunningham was the founder of Community Innovators Lab (CoLab) at the Massachusetts Institute of Technology (MIT). At CoLab, she built large-scale, multi-sector development collaborations that combined sustainability, wellness, and democratic control of economies in marginalized communities. A civil rights lawyer by training, Dean Cunningham spent several years with the NAACP Legal Defense and Educational Fund, litigating cases in Arkansas, Tennessee, Louisiana, Mississippi, and other states in the South. She has also served as associate director at the Rockefeller Foundation and program director of the ELIAS Project at MIT, which was a collaboration of government, businesses, and NGOs to create initiatives that supported economic, social, and environmental sustainability.
Dean Cunningham earned an undergraduate degree from Harvard and Radcliffe Colleges, a JD from New York University School of Law, and an MBA from MIT Sloan School of Management.