TCRC Supported Community Research Grants 2023 - 2024
TCRC has selected three new Seed Research Projects exploring maternal and infant health, geospatial data on communities' wellbeing, and understanding engagement in Boston's environmental justice communities.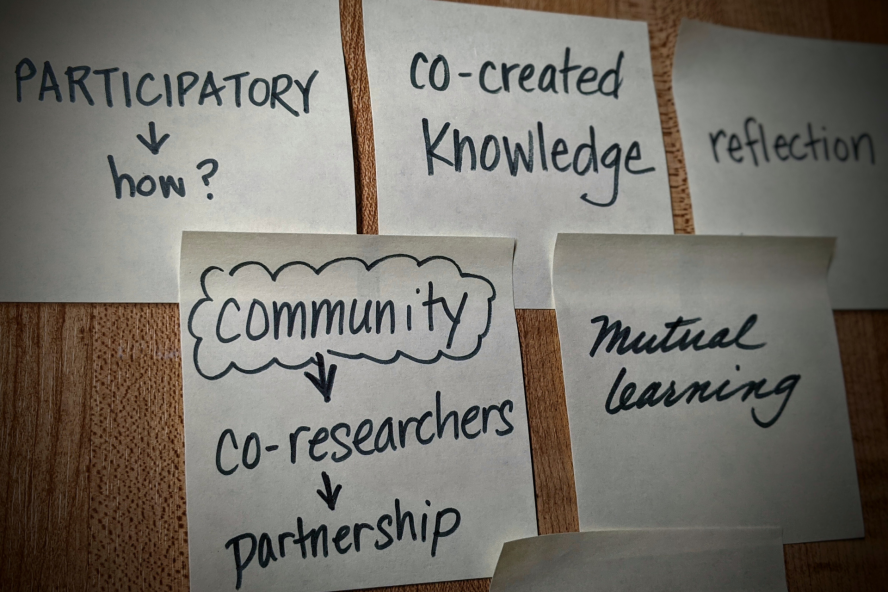 As part of how the Tisch College Community Research Center (TCRC) supports the co-creation of knowledge through partnerships between community members and Tufts University, the center awards seed grants to pilot promising community research.
Since 2008, TCRC has awarded more than 30 grants, investing over $300,000 to promote community research across disciplines and communities in Massachusetts. We are excited to share the 2023 awards that support community-Tufts collaborative research pilots.
Three new TCRC Seed Research Projects:
Improving Somerville Parent & Newborn Health: A SomerBaby-Tufts University Partnership
Lead partners: Fernanda Villar (Lead Community Partner; SomerBaby); Flor Apolaya (SomerBaby); Nina Ashford (TUSM & Center for Black Maternal Health and Reproductive Justice). 
 
Abstract: The Improving Somerville Parent & Newborn Health: A SomerBaby-Tufts University Partnership project is a collaborative effort with the SomerBaby program, the Maternal Advocacy & Research for Community Health (MARCH), and the Center for Black Maternal Health and Reproductive Justice (CBMHRJ). The project consists of three phases: survey creation, Somerville Family Day planning & facilitation, and Nurture Kit & survey dissemination. Our research will provide essential data on the needs of the communities SomerBaby serves and will focus on a rights-based approach in which the community has complete autonomy over the proposed research.
Barriers to Mass Save in Boston's Environmental Justice Communities
Partners: Boston Climate Action Network (BCAN, Hassann Farooqi), Tufts UEP (Penn Loh), Mutual Aid Eastie & Green Roots; Reclaim Roxbury; Greater Mattapan Neighborhood Council; Boston Project Ministries; Southwest Boston CDC. 
 
Abstract: The Barriers to Mass Save in Boston's EJ Communities Project is led by the Boston Climate Action Network in partnership with five community organizations working in East Boston, Mattapan, Roxbury, Hyde Park/Roslindale, and Dorchester. There are multiple legislative proposals to revise the structure of the Mass Save program and increased scrutiny of the disparities in distribution of benefits from the Mass Save program. However, there has been little research to understand what prevents
environmental justice (EJ) communities from benefiting from these programs. This project aims to document the structural challenges and barriers to using Mass Save program offerings by renters and small landlords to make recommendations of policy and program changes needed to address the disparities. The long-term goal is to strengthen community-based advocacy for more equitable implementation of Mass Save programs in Boston's EJ neighborhoods as well as provide capacity and relationship building across the City of Boston to strengthen collective resilience and advocacy.
Student-Led Analysis of Health-Related Geospatial Data
Partners: Revati Masilamani (TUSM); Carol Bascom-Slack (TUSM); Norman Rousseau (Medford Vocational Technical High School); Kelly Gordon (Boston Latin Academy); Sarah Olken (North Shore Community College); Amy Chausse (Dennis-Yarmouth Regional High School), Also Tufts partner: Data Lab of Research Technology. 
 
Abstract: Antimicrobial resistance (AMR) is a public health concern that requires urgent attention and an integrated One Health approach from communities, researchers, and policy makers. The prevalence and diversity of antibiotic-resistant bacteria in the environment, and the risks they pose to humans, are not well understood because there is limited standardized surveillance. Further, there is a critical need for population-wide health literacy initiatives to access, analyze and interpret health-related data to inform health behaviors. A first step towards forecasting and targeting efforts to prevent spread and transmission of antibiotic-resistant microbes to humans is wide-spread environmental surveillance of antibiotic-resistant bacteria. The Prevalence of Antibiotic Resistance in the Environment (PARE) Project at the Center for Science Education, and supports student researcher contributions to a US-wide database of AMR levels in the environment. This project collaboratively creates an online tool in partnership with teachers and students from North Shore Community College, Medford Technical Vocational High School, Boston Latin, and Dennis-Yarmouth Regional High School, building a student-led analysis of the database with the dual goals of (1) capacity building in the domain of analysis and interpretation of health-related data, and (2) contributing towards scientific understanding that can help policy implementation to counter the challenge of AMR. The team's teachers provide essential expert perspectives on their communities' concerns around AMR, as well as approaches to strengthen student data literacy. This citizen science collaboration will support students to be local ambassadors for health literacy, with findings that will inform the content and approach for students to share outcomes in their own communities.