Meet Renowned Rapper and Activist Dee-1, Tufts' newest Artist-in-Residence
Hip-Hop Artist David "Dee-1" Augustine named the inaugural Alan Solomont Artist/Scholar-in-Residence at Tufts University's Tisch College.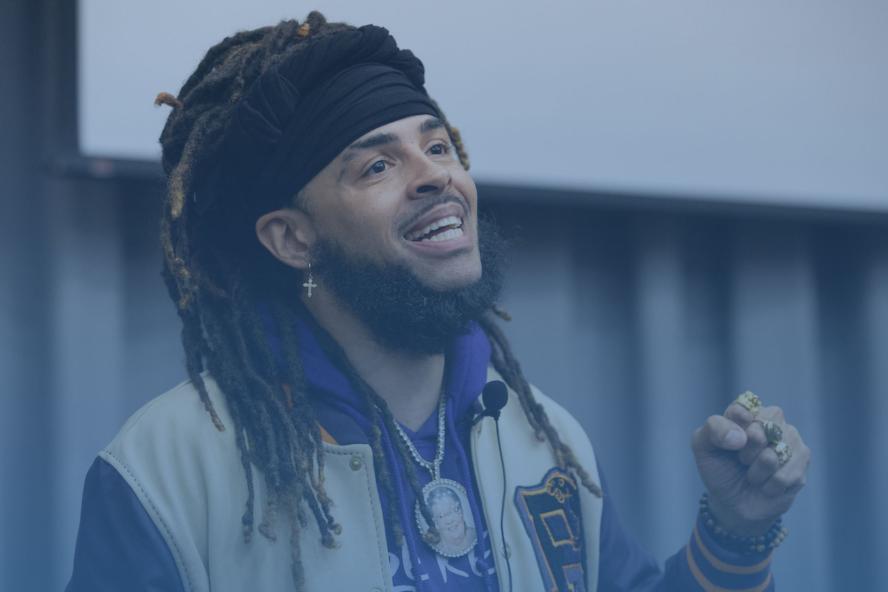 David Augustine, an award-winning hip hop artist and activist known for his socially conscious lyrics, has been named the inaugural Alan Solomont Artist/Scholar-in-Residence at Tufts University's Tisch College of Civic Life  for the 2023 - 2024 academic year. Better known by his stage name "Dee-1," Augustine's residency will focus on the transformative power of art, especially hip hop music, as an instrument of social change.
Dayna L. Cunningham, the Pierre and Pamela Omidyar Dean of Tisch College, said of Dee's upcoming residency, "when we hosted Dee on campus this past spring, we were inspired not only by his unique perspective and talents in the art and activism space but also by his sheer enthusiasm for this work. As both an artist and a civic leader, he was a natural choice for the inaugural residency, and we are thrilled to bring his voice back to the Tufts campus."
This Artist/Scholar Residency at Tisch College, created with generous support from Tisch College Dean Emeritus Alan Solomont, is a dynamic program created to enrich the intellectual and creative landscape of Tufts University. It offers an immersive experience for exceptional artists and scholars, providing them with a platform to engage with the Tufts community and inspire students, faculty, and staff, over the course of an academic year. The program holds special meaning to Dean Emeritus Solomont: "Having come of age during the 1960's and listening to the politically charged songs of Woody Guthrie, Joan Baez, Bob Dylan, Phil Ochs and others, I experienced the power of music to serve as a tool of social change. Dee-1's music and message represent a powerful continuation of this tradition, and his residency will greatly benefit the Tufts community."
Developed in collaboration with the Tufts University Chaplaincy, the residency program also recognizes the significance of religious and philosophical diversity in promoting activism and social justice. The partnership will help foster interdisciplinary conversations and connections between art, spirituality, and social change, all in pursuit of Tisch College's North Star: building robust and inclusive democracy for an increasingly multiracial society. 
On being named the inaugural Alan Solomont/Scholar-in-Residence, Dee-1 said, "I'm honored to have this opportunity to share my expertise and creativity with others–particularly young people–and to learn from and collaborate with the diverse community here at Tufts. I look forward to sharing my mission vision message with my fellow Jumbos: be real, be righteous, be relevant."
Dee-1 will have an academic appointment as Professor of the Practice, office space on campus and dedicated office hours for students throughout the academic year. He will engage in a variety of programming, including workshops, podcasts and creative collaborations, and he will teach a Civic Studies course in the spring semester, exploring the historical and cultural significance of hip hop as a catalyst for activism and social transformation. 
Excited to engage with Dee-1? Us too. Swing by Tisch College's Meet & Greet with Dee-1 on September 26, 2023 at noon to get to know Dee. Free lunch provided. 
About Dee-1
Dee-1 began rapping and performing publicly while in college at Louisiana State University. After graduating from LSU in 2008, he taught middle school math in Baton Rouge. After two years of teaching, he pivoted to focus exclusively on his music career. In 2010, Dee-1 was named Artist of the Year at the NOLA Underground Hip Hop Awards.  In 2016, he released "Sallie Mae Back", a hyper-energetic track celebrating the completion of his student loan payoffs. He used a part of his label signing advance to pay off the loans. The song received critical acclaim from CNN, ESPN, Forbes and Time magazine. The Washington Post called it the "anthem of a generation." Dee-1 is the recipient of the 2020 NAACP "Power of Influence Award," highlighting his activism and commitment to inspiring youth. In 2021, he became the first rapper in history to be appointed to a statewide position by a governor, John Bell Edwards of Louisiana, joining the Louisiana Council for the "Success of Black Men and Boys." He was also nominated for an Emmy Award in 2021 for hosting "The Manhattan Project".  His recent album, "Finding Balance" (2022) debuted at No. 4 in the world on the Apple Music/iTunes Hip-Hop Charts. In 2023, he was appointed the Nasir Jones Hip-Hop Fellow at Harvard University.