Civic Semester Fellows Fall 2023
The 2023 Civic Semester Fellows are a diverse group of 12 students who will be spending the first semester of their Tufts education in Peru, exploring themes of environment and agriculture, arts and culture and community health. These young leaders come from around the world and all across the United States, but they are all united by their shared commitment to civic engagement and a more just and sustainable future.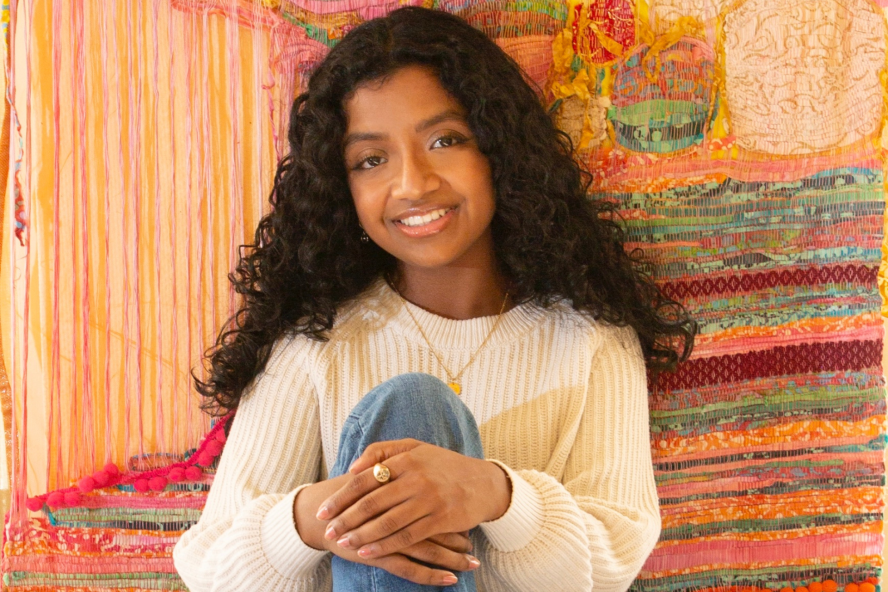 Veena Bulusu
Veena Bulusu was born and raised in Michigan.  She is excited to work with the community, increase her Spanish proficiency, and make lasting memories with her cohort in Perú. Working with the University of Michigan Social Justice Fellows and volunteering at her local soup kitchen in Saginaw have fueled her passion for civic engagement and social justice. She's can't wait to work with local organizations in Peru and see how they are making a difference in their community. During high school, she also began weaving tapestries and exploring her identity through fibers. She looks forward to exploring Peruvian art and its deep roots in the culture and traditions of the community. In her free time, Veena loves to cook, garden, and listen to music from around the world. From enjoying amazing food to engaging in the community, Veena is ready to immerse herself in all aspects of life in Urubamba!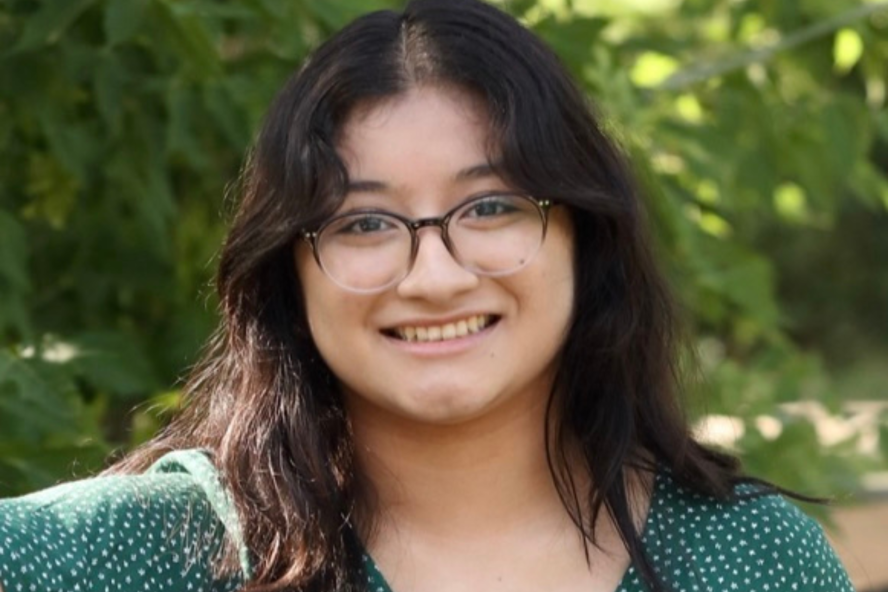 Elaine Garcia
Elaine was born and raised near Denver, Colorado. In her free time, she loves baking, watching TV, and spending time with family and friends. As a child of Latin American immigrants, she learned about migrant experiences and lifestyles very early on. This sparked the desire to help others who grew up like her parents and herself. In seeking to deepen that desire, she undertook various volunteer opportunities and dedicated time to help the older generation explore and understand our world with its developing technology throughout her high school career. There, she realized that she wishes to pursue a career involving civic engagement. She looks forward to experiencing Peru with the hopes of fully engaging with a new culture, getting first-hand experience with civic engagement in a new country, and using both her Spanish fluency and background to connect with those she meets along the way.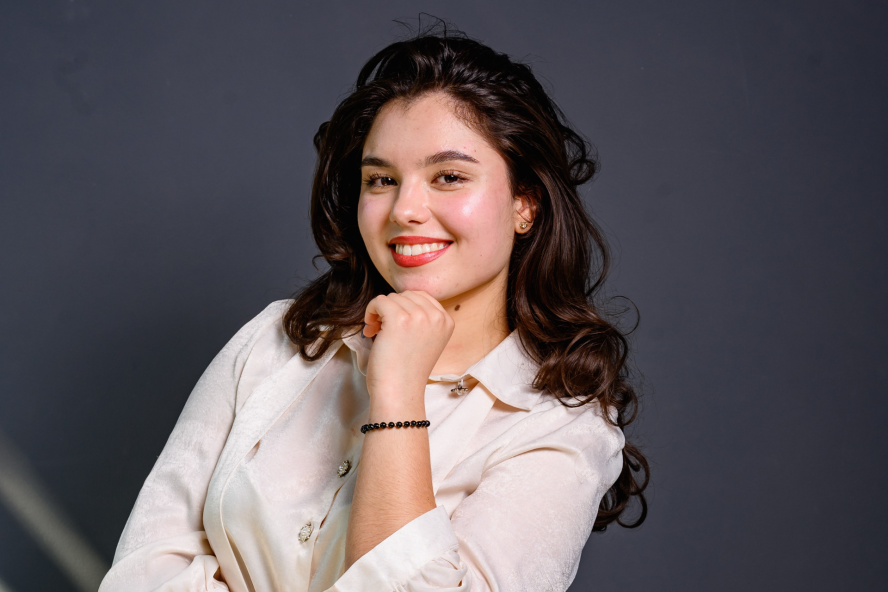 Nica Gojan
Nica, an international student hailing from the Republic of Moldova, possesses an insatiable thirst for a challenge that has led her to embark on this journey. Driven by a commitment to personal growth, she fearlessly seeks to push the boundaries of her potential.
Her passion for civic engagement was nurtured by years of relentless activism within the Feminist Movement in Moldova. From the age of 14, she embarked on a mission to combat gender inequalities that surround all communities. With unwavering determination, she fights to raise awareness about sexual violence, igniting a spark of transformation within her country.
Her intersectional feminist worldview shatters norms and fuels her vibrant spirit.
Jacob Hopkins
Jacob is from Silver Spring, Maryland. He attended Montgomery Blair High School where he was involved in fine arts all four years. He played in concert bands, a full orchestra, Marching Band, Pep Band, Pit Orchestra, friend's band, and participated in Stage Crew. He wants to major in Environmental Studies and Minor in something related to playing music, something he loves to do. He also enjoys cooking and baking, completing puzzles, reading, and juggling. One of his biggest passions is volunteering which he has been doing most of his life. He has volunteered at food pantries, at Camp Becket, and on the Cheyenne Sioux Tribe River Reservation in South Dakota. He is looking forward to meeting new people and trying new foods while in Peru through the Civic Semester. 
Sophia Kschwendt
Sophia is from New York City and has just finished up a gap year in Mönchengladbach, Germany. Through attending a local high school, doing internships, and living with a host family, Sophia was immersed in a fascinating new culture and language. Her gap year in Germany sparked a curiosity for other cultures around the world. She is very excited to visit South America for the first time and learn about Peruvian culture through immersion and engagement with local communities. In her free time, Sophia enjoys sewing, drawing, roller blading, and listening to music.
Emma Maganzini
Emma grew up in Medford, Massachusetts, right down the street from the Tufts campus. The Civic Semester will be her first time in Latin America, and she is so excited to explore Peruvian culture. Her passion for learning languages drew her to the program, and she can't wait to improve her Spanish skills. Her passion for civic engagement and social justice heavily influenced her high school career, as she helped create local projects such as the Black Lives Matter Video Project and the MHS Body Positivity Mural. She is excited to learn from the community and organizations of Urubamba! In her free time she enjoys rock climbing, folding origami, and dancing. She cannot wait to try various other activities in a new environment with new friends!
Tziavi Melendez
Tziavi was born in Las Vegas, Nevada and grew up within several tribal communities. She is Shoshone-Paiute, an enrolled member of the Reno-Sparks Indian Colony, and currently resides on the Duck Valley Indian Reservation in Owyhee, Nevada. She enjoys sports, pow wow dancing, and eating good food. Throughout high school, she has been politically active in addressing Indigenous issues and amplifying Indigenous voices, and helped establish the Nevada Statewide Native American Caucus Youth Council. She plans to attend law school and then return home to help the Tribes of Nevada. The opportunity to participate in Tufts Civic Semester will allow her to experience a culture so uniquely different but similar to hers so she can better advocate for all Indigenous People. She looks forward to experiencing new things and creating lifelong friendships.
Teagan Mustone
Teagan grew up in Medford, MA with her parents and five siblings. At Medford High School, she found her voice by organizing voter registration drives, serving in student government, and drafting resolutions through Model United Nations. Her first conference sparked an interest in politics and diplomacy, and she plans to study International Relations at Tufts. In her free time, Teagan enjoys reading, hanging out in Davis Square, and volunteering at local organizations. During the Civic Semester, she is excited to explore the world outside of Medford, immerse herself in the culture of Urubamba, and discover her identity as a global citizen!
Ella Perin
Ella was born in Baltimore, Maryland but grew up in Durham, North Carolina. She enjoys exploring the outdoors, photography, painting, playing soccer, traveling, and listening to new music. Throughout high school she spent most of her time with fellow student organizers flighting for climate justice and other related movements, including founding her school's chapter of the Sunrise Movement. Interested in studying Environmental Science and Civic Studies, Ella hopes to expand on a lifelong commitment to activism. She's excited to kick off her Tufts career learning about political and social involvement in Latin America, immersed in a new culture and language with this cohort!
Zhiyi Qian
Zhiyi was born and grew up in Nanjing, China. The Civic Semester will be her first time in Latin America. Attracted by the mysterious and charming descriptions of Peru from travel notes, she's super excited about the experience there. As a high school student committed to environmental conservation, she is looking forward to the opportunity to visit these organizations in the field. As a beginner Spanish speaker, she also looks forward to the benefits of a more immersive language environment. She can't wait to meet amazing people and make friends! In her spare time, she enjoys watching movies and animes, doing handicrafts and playing the guitar. Balancing her interests and academic work, Zhiyi hopes to achieve her best during the three months in Peru.
Eleanor Schackne-Martello
Eleanor was born and raised in Woodstock, New York. For fun, she enjoys sailing, poker, rocking out to Taylor Swift, and playing Chase with her friends. Eleanor's dad was Town Supervisor of a nearby hamlet when she was born so from a young age, she was very involved in local politics. In her county, she has been a polling place worker, Youth Lead of Voter Outreach, and now, President of Ulster County Young Democrats. Outside of politics, or more politics-adjacent, she was Editor-in-Chief of her school's student-run newspaper and interned at a regional newspaper as a journalist. As an adult, Eleanor hopes to move back to her hometown and become a campaign manager for local politicians, before eventually running her own campaign to become an Assembly Member of State Senate. During the Civic Semester, Eleanor hopes to immerse herself in the inner workings of grassroots, community run organizations to better understand how to mobilize people. She also hopes to be able to broaden her horizons with a new language and culture and use that knowledge to connect to more people.
Iris Wiater
Iris grew up smack in the middle of Los Angeles, California. She was raised "semi-communally" with another family, which instilled in her a deep dedication to community building. She is passionate about a wide range of subjects, including politics, Shakespeare, and her cat. She was the president of her high school's model congress and is a member of a youth Shakespeare troupe. Additionally, she volunteered at her local library to create and run theater workshops for young children. When Iris was three she attended her first political protest and since then has developed a strong commitment to civic engagement, including spending much of this summer supporting workers on the picket line (union strong!). These interests, combined with a desire to work collaboratively with a close-knit group of people and experience new places led her straight to the civic semester.